If your Thought has an attachment, the attachment icon

in the toolbar section of TheBrain will appear highlighted

.
There are two methods you can use to access your attachments.
1. Tap the attachment icon in the toolbar area.

2. Tap the Thought icon next to the name of the Thought.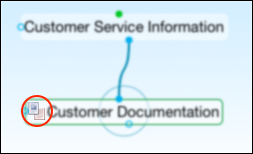 Both methods will display the Attachments page.
You can then tap on any of your attachments to view them.
When you are done viewing your attachment, tap the screen anywhere to display the document toolbar.

Tap Done and the attachment will close, bringing you back to TheBrain.